"Having a very professional and a very good violin teacher for my kids makes me happy as a mum. Daniel is an excellent music teacher that makes my children love their violin even more and they enjoyed music remarkably. 
My children said that they love Daniel because he keeps checking that they are on the right track and not to get confused and making sure they get it right. I am so happy and bless that I found this music school" .
(Parent feedback)

Brisbane's First  International Youth Music Festival
founded by E. Tagiev
Daniel excited to play with maestro
Westside News /Lifestyle, 18 Aug 10 @ 06:20am by Anna Hilton
One  of the Westside's most talented young musicians is adding another string to his bow as he gets set to play alongside a world-famous violinist. Daniel Tagiev, who started playing the violin at the age of seven, will be sharing the stage with Russia's Ilya Konovalov, currently concertmaster of the Israel Philharmonic Orchestra, and celebrated Australian oboe player Tania Frazer. The 15-year-old Brisbane Boys College student said he was looking forward to picking up some tips from the professional musician. "I've heard him play before and he is brilliant, so getting up there will be nerve-wracking but pretty cool at the same time," Daniel said. "We'll be doing Vivaldi's famous The Four Seasons concertos, but I'll also be having some lessons with him while he's here, which will be great." Asked whether he thought he would find it hard to converse with Konovalov, Daniel replied that it didn't matter if he didn't speak English because his Russian was fairly good anyway. "My parents are Russian so I've grown up speaking the language," he said.
More reviews from former students and visitors:
Four of us attended and really enjoyed your concert. We were surprised to find that the chamber orchestra is indeed mainly a youth orchestra and also that its members are such accomplished musicians. We left the hall feeling uplifted and full of admiration for you all.Best wishes for future success.
Lindsay & Sue Reath
Queensland children bring home the Gold
One of the most significant events of the Australian music calendar, The 18th International Music Festival, Sydney has been the venue which showcased Queensland's young talent. Only twenty-five groups in all were chosen from New Zealand, Singapore, Peoples Republic of China, Japan, USA, Canada and Australia to represent their countries with the performances in the Opera House, Darling Harbour, Sydney Town Hall to compete at the festival. The youngest competing ensemble, with an average age of twelve, the Tagiev Chamber Orchestra first foray into International competitions has resulted in a Gold Award. Despite the fact that they were playing at the Sydney Opera House and in front of a panel of international judges as well as an audience, something that could overawe even mature performers, the young virtuosi took it all in their stride. For the members of the TCO it was just another achievement to add to their already impressive list of (list major achievements of the orchestra) as well as a European tour undertaken in 2005. According to Emin Tagiev, children while undoubtedly talented, had worked very hard and richly deserve their just award. Queensland was also represented by Glennie School, Toowoomba and the Queensland Youth Orchestra's Wind Ensemble (directed by Katrina Mothershaw). The QYO who had competed in this Festival previously and had already won gold before, had again proven the strength of Queensland music education by gaining a Gold Award again. Music faculty of this festival were represented by Dr Lawrene Sutherland (USA), Craig Faniani (USA), Josh Murray (USA), David Ramadanoff(USA) Stephen Williams (Australia) , Elizabeth Scott (Australia), George Torbay (Australia).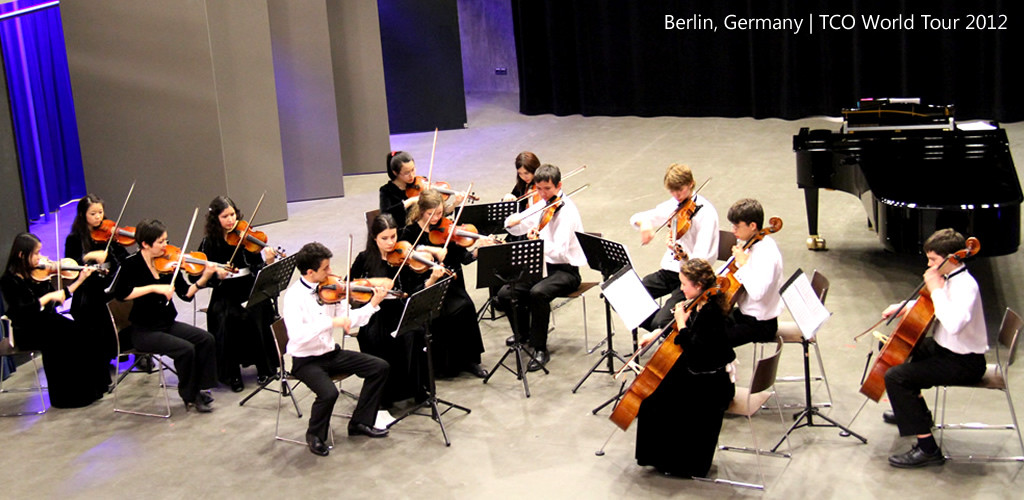 I sincerely thank you all: Emin, Rena, Danny, Emin's parents, for the wonderful experiences in music that you have given us.  Our lives have been so much richer since we have met you.  I come from a family of music lovers and I can't believe how lucky my daughter is.  I hope one day that Kate will fully appreciate this. To travel to Brisbane each week-end seems such a small thing, to have access to all that you offer: the best violin teaching, an orchestra of children that plays challenging music(with dedicated parents!!!) and the wonderful experiences we have enjoyed as we have toured the world together. Thanks so much for all of this.   Thank you for your dedication and friendship
Kara xxxx 15.3.2009
Dear Emin, We wanted to say thanks yo you and the ensemble members for the wonderful music you brought to our lives through Hamish's involvement. We think what you do with these lucky children is quite amazing and hope you feel valued for you talent and hard work.
Margaret xxxxx
My daughter had trouble playing ricohet. We came to our lesson with Emin and he taught her how to master this amazing technique. The feedback from her examiner was – "This is the best ricochet I've ever heard". I would like to thank Mr Tagiev for being so professional and patient in his teaching.